Bar MAZE (South Wind)
"MAZE," meaning "south wind," turns into a quiet, sophisticated bar at night, where adults can relax with each other after their meal. The bar is stocked with premium spirits, and each month the bartender crafts his own unique cocktail using seasonal ingredients.
Library MAZE (South Wind)
MAZE is a library during the day, where you can relax, whether upon your arrival, before or after meals, or simply during the day as you relax at "Oyado The Earth." Please help yourself to some complimentary and fresh beverages (coffee and juice) as you peruse our DVDs, CDs, and books, all of which can be checked out by our guests during their hotel stay.
Earth Observatory
From the observatory deck, you can soak up the high noon sun, gaze upon the seemingly infinite ocean, ponder the stars and moon in the middle of the night, and give homage to the rising sun.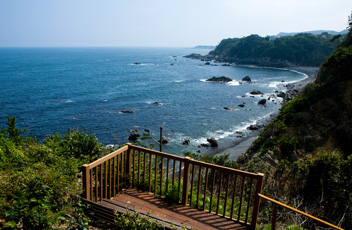 Promenade, Nature Walk
The promenade is a meandering passage that ends at the beach, where guests can enjoy panoramic views of the ocean and explore the forests of Ise-Shima and the Pacific Ocean in more detail.
Massage Parlor, Sou
Whether it be stiffness or pain, swelling of the legs, or fatigue, a refreshing massage or reflexology appointment will help you to heal and feel better.
Souvenir Store, Kazenoichi (Wind Market)
We hand select local souvenirs from Ise Shima.