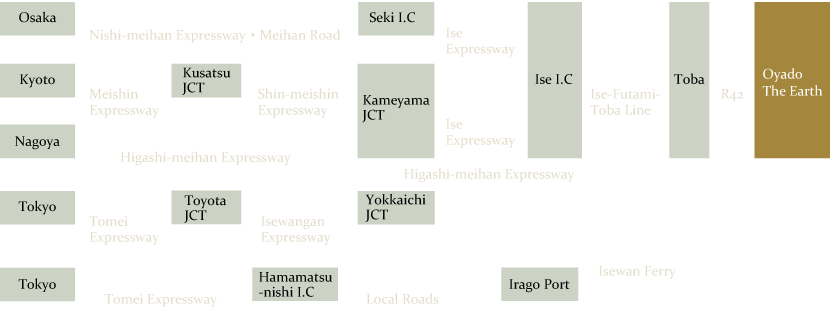 When there is a map cord checking function in a car navigation.
MAPCODE 338 651 780*52
Go straight following the R42 in front of Toba Station toward Pearl Road for approximately 30 minutes. After about a 15-minute drive from Toba Station, a large white bridge called "Ono Ura Ohashi" will come into sight. Cross the bridge and continue for about 5.5 km until you see a small green sign on the left-hand side of the road that reads, "The Earth." Turn left at this sign. You will immediately come to an intersection, at which you stay right. Follow the green signs for "The Earth," which is about 1 km ahead. Be sure to turn left once more into our private driveway.


The shuttle ride will take approximately 35 minutes from Toba station to Oyado The Earth.
The shuttle bus departs at three scheduled times: 3:00pm, 4:00pm, and 5:00pm. If reserved in advance, 2:00pm is also available. All guests must reserve a shuttle in advance to ensure their seats. The shuttle bus will be parked outside of Exit 1 at the Kintetsu Toba Station. Look for a pink shuttle bus that reads "Sun Urashima Yuki no Sato," which is the primary shuttle bus for our sister hotel. Once you arrive at Yuki no Sato, a private shuttle will be waiting for you to take you to Oyado the Earth.

[Train Station Return Times]
The hotel shuttle will return guests to the Kintetsu Toba Station at the following times: 8:40am, 9:40am, and 11:10am.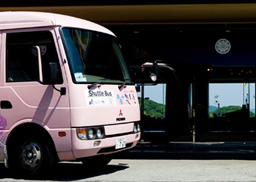 Shuttle bus